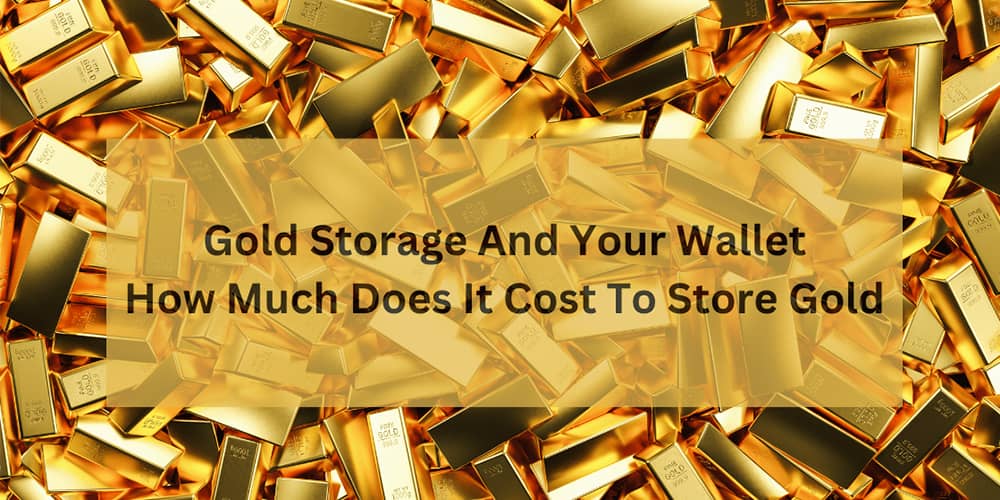 The popularity of precious metals continues to rise as inflation persists, interest rates climb, and political upheaval reverberates worldwide. As a result, many people who purchase gold bars and gold coins for the first time, or add them to their existing holdings, are faced with an important question: What is the best possible storage option for safeguarding my physical gold?
A general saying in the gold storage and investment community goes like this: "What you don't know can hurt you." Simply put, someone who understands the risks is far more likely to succeed.
In this article, we will examine the three gold storage solutions available to investors: storage at your home or residence, a bank vault and a precious metals depository.

Benefits of Investing in Gold
There are many reasons why people invest in physical gold. For some, it is a hedge against inflation and financial uncertainty. For others, it is a way to diversify their investments and protect their overall wealth. Whatever the reason, gold has long been considered an invaluable asset for any portfolio.
One of the main benefits of physical gold is its time-honored status as a relatively stable investment. Although gold prices can fluctuate based on global economic conditions, their value tends to recover and stabilize quickly, unlike stocks and other financial assets. This makes it an ideal investment for those looking to preserve their wealth. In addition, gold is highly liquid and can be quickly sold or exchanged for cash if needed.
Another benefit of investing in gold is that it requires significantly less maintenance or monitoring than other investment assets such as property. Once you have purchased physical gold, it can be stored safely and securely without needing regular monitoring or upkeep.
Like all investments, of course, there are some risks associated with investing in precious metals. For example, prices can rise and fall as response to global economic conditions and political events. Over the long term, however, gold has generally outperformed most other asset classes and remains an ideal way to diversify your investment portfolio and protect your wealth.
Different Types of Gold Storage Options
Gold storage is a key consideration when investing in physical gold. Gold bars and coins can be stored in various ways depending on the investor's preferences and what they are looking for in terms of safety, security and convenience.
Once an investor has purchased physical gold, the next most important decision is choosing where to store precious metals. For the most part, gold and other precious metals investors have three primary storage options:
Home Storage – In a locked safe or hiding spot.
Bank Storage — In a safety deposit box or bank vault.
Precious Metals Depository — Insured vault storage with multiple levels of safety and surveillance protocols.
The most important consideration when deciding where to store your gold is safety. Investors should only store gold where they feel confident about its safety. This might be a safety deposit box at a bank, a home safe, a locked box buried in your backyard (though these options are highly discouraged due to the lack of security and extremely costly insurance options) or the most preferred, a precious metals depository. Each storage option has its benefits, disadvantages and costs. The key is ensuring the storage option is well-protected from fire, theft and natural disasters. Ultimately, the best storage option for gold will vary depending on each investor's circumstances.

Storing Gold at Home
Individuals have stored physical gold at home for centuries and many continue this practice today. There are several reasons why people choose to store their gold at home. Gold bars and coins come in a wide variety of weights and sizes, making them easy to store in various locations inside and outside of a residence. Furthermore, gold is portable and therefore has a high degree of mobility. In addition, holding gold in their hands gives some people a greater sense of security as they want the ability to readily access it in an emergency. Gold investors should consider two main factors if they store their investments at home: cost and risk.

The Cost of Home-Stored Bullion
While storing gold at home comes without storage fees, home storage still has a few indirect costs.
Lock-Enabled Fireproof Safe:
Investors who choose home storage for their gold often purchase a fireproof and waterproof precious metals safe with a strong lock. This safe should have ample space to protect the metals from earthquakes and other natural disasters.
Additional Insurance:
Gold investors need to know that most homeowner insurance policies do not include coverage for the loss of precious metals. Or if they do, they only provide a maximum coverage limit of $200 for gold or silver bars and coins. Most likely, the gold owner would need to purchase a separate personal property insurance policy or insurance rider to protect their precious metals stored at home. These insurance policies and riders are often expensive and usually have extremely low coverage limits. In a June 14 Forbes article, "Insuring and Protecting Your Gold and Silver," John Egan reported, "A standard homeowners insurance policy likely won't suffice. There's typically a $200 limit of coverage for gold and silver bars or coins. That amount is nowhere near the current value of gold, which reached near-record highs hovering above $2000 in April 2023."
Home Security Systems:
A residential security system is the third potential cost for people who choose to store gold at home. The cost of a professionally-installed home security system, plus the required monthly monitoring fees from a top-rated company, can easily exceed the annual expenses of a precious metals depository.

Gold Home-Storage Risks
While there are several benefits to the investor who wants to store their gold at home, there are also quite a few risks.
The top five risks for storing gold at home are:
Theft
Fire
Misplaced or lost
Death
Natural disasters
Theft
In 2022, Pennsylvania ABC affiliate WTAE reported about 30 pounds of silver and gold stolen from Washington County home. The television story said that a Pennsylvania homeowner stored his gold and silver in two cardboard boxes in his home, weighing approximately 30 pounds. House burglars broke in through a window and stole both boxes. To date, the thieves have never been caught.

Fire:
Though most gold coins and bars will survive a residential fire, they can become tarnished and pitted. This is especially important for numismatics as the value of rare gold coins is based not only on their metals but also on their condition.
Misplaced or Lost:
In 2016, DailyMail reported that a man found a secret stash of gold bars and coins (presumably lost or misplaced) worth €3.5 million, weighing in at 220 pounds and hidden in a house he had inherited in France. "There were 5,000 gold pieces, two bars of 12 kilos and 37 ingots of 1 kilo."
Death:
When a gold investor dies without telling anyone where their gold is hidden, it's as good as gone. For example, Dutch Schultz, a mobster who built his fortune in the Prohibition era, died without telling anyone the exact location of his treasure; the only public fact was that it was buried somewhere in upstate New York. In the 1930s, Schultz's fortune was estimated to be worth between $5 million to $9 million. Today that value would be around $50 million to $100 million, according to Syracuse.com. His buried treasure has never been found.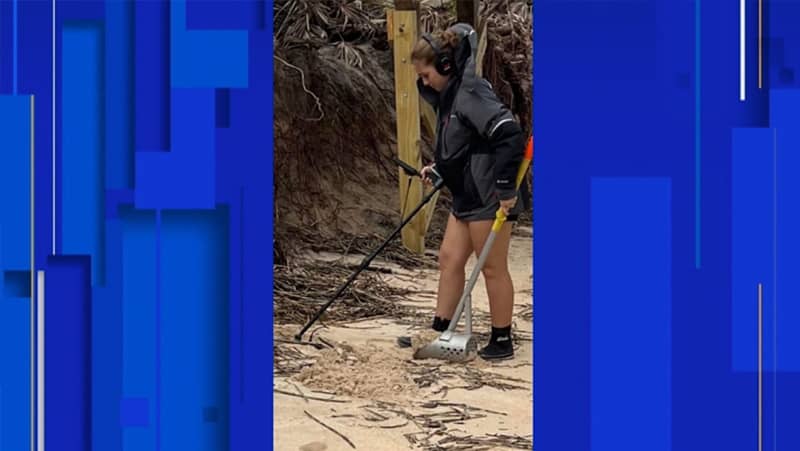 Video Credit: WKMG
Natural Disasters
Investors must also consider the risk of loss or damage due to natural disasters or theft. Unlike stock certificates, gold cannot be replaced if it is lost or damaged. This could be why you are likely to see people armed with metal detectors walking the beaches in the United States searching for lost treasures after hurricanes and other storms. Check out this story published in 2022 by CBS affiliate WKMG in Orlando, Florida, Hurricane treasure hunters: Daddy-daughter duo strike gold on Florida coastline.
Why You Shouldn't Store Gold Coins and Bars in a Bank
When it comes to gold storage, the bank may not be the best solution. As mentioned before, investment-grade gold is particularly vulnerable to theft and adequate insurance is very costly. Many investors are surprised that banks do not provide insurance for items stored in safety deposit boxes. Therefore, investors need to find their own insurance to safeguard their investments. Unfortunately, the cost of precious metals insurance can sometimes outweigh the convenience of bank storage.
There is also the risk of an economic meltdown when banks close and investors cannot access their investments. While unlikely, the risk must be considered when choosing where to store an investor's physical gold. Additionally, storing cash and precious metals in safe deposit boxes is expressly prohibited by many banks.

The Most Secure Option: Precious Metals Depository Gold Storage
Gold coins and bars are valuable investments, but when it comes to storage, there are safer and more cost-effective solutions than keeping them in the bank or storing them at home – a third-party precious metals depository.
While storage in a precious metals depository lacks direct access and adds storage fees, using a depository vault to store gold has numerous advantages.
The top three reasons gold investors chose to store their investments in an independent precious metals depository include:
Round-the-clock security with multiple levels of safety and surveillance protocols and class 3 vaults.
Precious metals insurance to protect against theft and loss.
Easy to resell to precious metals dealers directly from the depository

Security:
A gold depository is typically more secure than any other storage option available. In addition to being securely built, some have state-of-the-art security systems and are electronically monitored 24/7 with armed guards.
Some depositories like International Depository Services Group offer UL(C)/Class 3 Vaults, which provide maximum protection from natural disasters and theft. Gold vaults are given a rating by Underwriters Laboratories (UL) in the form of a letter or number from 1 to 3. According to the UL Standards, "These requirements are intended to establish the burglary-resistant rating of vault doors and modular panels according to the length of time they withstand attack by common mechanical tools, electric tools, cutting torches, or any combination of these means." A Class 3 vault is the highest classification and the highest level of protection.
Class M: 15 minutes

Class 1: 30 minutes
Class 2: 60 minutes
Class 3: 120 minutes
Precious Metals Insurance:
The annual fees of most gold storage depositories typically include insurance protection for the value of the gold being stored and is underwritten by well-respected carriers such as Lloyd's of London.
Easy Access to Resell
Selling bullion to a dealer doesn't have to be complicated or expensive. A few precious metals depositories like International Depository Services Group provide customers with an easy, secure way to complete their transactions through their accounts, saving time and money. Depositors provide the desired shipping address and method of delivery, and their sales will be taken care of quickly and safely.
Additionally, while International Depository Services in not a bullion dealer, some of the world's leading bullion dealers are also its clients allowing IDS to offer easy access to depositors to buy/sell and trade metals stored within their depositories.

Gold Storage: Segregated Vs. Non-Segregated
Professional precious metals storage facilities typically offer two different storage options: non-segregated and segregated.
Non-Segregated Storage
Non-segregated storage indicates that the investor's gold or other precious metals are co-mingled with the assets of other investors in the depository vault. Though this costs slightly less, most investors using gold storage decline the option to use non-segregated storage in favor of the more advantageous segregated storage option.
Segregated Storage
Most investors in a precious metals depository should choose the segregated storage option. Segregated storage ensures that the precious metals are stored separately, apart from the depository assets of other investors. This storage method ensures that the exact pieces deposited can be easily identified and returned to each investor. The International Depository Services Group only offers segregated storage.
Though it's not as accessible as home storage, investors can access gold stored at the International Depository Services Group by appointment in as little as 24-hours.
Cost of Gold Storage In A Precious Metals Depository
The cost of storing physical gold can vary depending on various factors, including the storage facility and location. However, the average cost of storing gold in a vault is around 0.5% of the value of the gold per year. This means that for every $1,000 worth of gold you own, you can most likely expect to pay around $5 per year in gold storage fees.
Typically, gold storage fees range from 0.3% to 0.65% of the metal's total value at International Depository Services Group depositories. For accounts valued at over $5 million, please get in touch with IDS Group for a custom quote.
Many feel that the added security, insurance coverage, increased liquidity and peace of mind that comes with storing gold in a professional facility is worth the cost.

Minimum Requirements for Precious Metals Depositories
Every depository has different holding minimums to open an account. International Depository Services Group has no minimum level of holdings required but does assess a minimum annual storage charge of $200 at their Delaware depository vault and $600 at their vault in Texas, for personal custody accounts (IRA account fees vary according to the custodian). which includes insurance coverage underwritten by Lloyd's of London. There is no cost to open a gold storage account at any of the three International Depository Services Group precious metals depositories.
Insurance for Gold Storage at International Depository Services Group
The insurance charge for gold storage is included in the fees charged by a select group of precious metals depositories for both small and large quantities. For example, International Depository Services Group provides precious metals insurance for all deposits stored in its three storage facilities in Delaware, Texas and Canada. This insurance coverage is an all-risk policy. Investors are covered for 100% of the value of stored gold.

Gold Storage: "One Confidant" Rule
Regardless of where you store your gold investment, at least one other person should know its location. The "One Confidant" rule states that every precious metals investor should have one confidant who knows the storage location of their precious gold. This one confidant should also have the ability to access it. The confidant should be someone the investor trusts. The confidant should also know how much there is, where it is stored and instructions on gaining access if needed.
Why do you need to share your gold storage details with another person? If an investor becomes incapacitated (e.g., illness, accident or death), the motivation they bought and stored gold bullion, to begin with—to preserve and protect their family's wealth—is defeated.
Investors, however, should choose this person carefully. This confidant must be organized and detail-oriented enough to remember the investor's instructions precisely but not so curious that they would attempt to access the investor's stash without your permission. Additionally, they should live close enough to you that they could reasonably get to your investment or information during an emergency promptly. Finally, once a confidant is chosen, investors need to make sure this person understands the importance of keeping this information confidential and provide clear instructions on what to do if they need to access your gold bullion.
Examples of who might make an excellent confident for the "One Confidant" Rule include:
A family member (e.g., a trusted relative, a beneficiary)
Executors
Attorney

Ultimately, Gold Storage is up to the Individual Investor
Every gold investor needs a way to store their precious metals securely, but gold bullion storage options are not all created equal. Investors should carefully select the best option for their location and individual needs.
To learn more about how International Depository Services Group can help you, please visit www.internationaldepositoryservices.com or call 888-322-6150, Monday-Friday, from 8:30 a.m. to 5 p.m. Eastern Time.