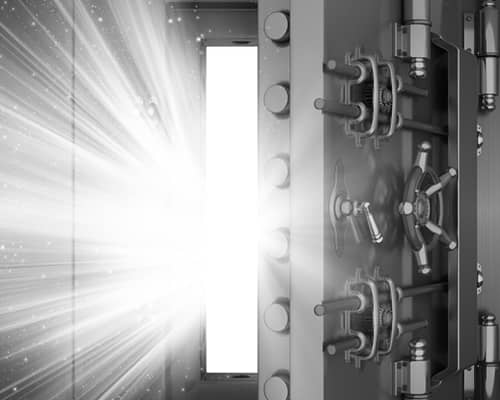 You've decided to invest in precious metals. You did the required research to ensure you are dealing with a reputable dealer. Now, you need to select a third-party precious metals depository.
9 critical factors to consider
It's important to remember that the choice of where an investor stores one's physical precious metals investment should always be 100% up to the investor. With that, the onus is on the private investor to complete solid due diligence of their options for precious metals storage locations. Often this is done before purchasing the actual metal. Private investors must understand certain concepts and ask several critical questions to know the actual status of their investment. This blog will help explain the depository process.
What is a precious metals depository?
A depository is a secure, third-party storage facility that is used to hold individual precious metals investments. Reputable depositories are typically insured and have state-of-the-art security systems to protect the investments housed within the facility. (Investors are encouraged to ask these questions as part of their due diligence.)
The primary purpose of a depository is to safeguard your precious metals from physical theft, fire, and natural elements.
Several not-so-obvious yet critical factors help private investors select a reputable precious metals depository. These factors include:
Location – The geographic location of a potential precious metals depository could impact an investor's ability to access and take possession of their investment should they need to. Some investors may be more comfortable storing their precious metals at a depository close to their home, while others desire a location far from home.
Customer Service – How rapidly can an investor get assistance from the depository should an issue arise? The quality of customer service and the level of convenience a depository provides will help determine an investor's overall satisfaction. An individual investor should be able to contact their depository for any questions or concerns that may arise. (Please note that this does not apply to IRA accounts.) A depository should also offer investors multiple convenient ways to access their investment – preferably online or by an app.
Confidentiality – A depository's policy towards confidentiality is just as important as the security it provides an investor's precious metals assets. The depository should have a policy addressing how it will protect the privacy of its investors, such as by storing all customer records and holding customer assets in the customer's name. In addition, the depository should only be able to release investor information to the investor directly or to authorized parties. Precious metals investors should be confident that the depository will safeguard the privacy of the identity of their investment.
Segregated Account Storage: Individual investors should know whether their investments are allocated or segregated within the storage facility. In a facility that guarantees segregated holdings, the client(s) benefit by knowing their assets are held separate from the assets of other depositors.
State-of-the-art Security: Investors need to feel confident that the depository conducts regular audits regarding the physical security of the building, electronic security of data and continually practices stringent policies regarding the security of client assets.
Insurance – Precious metals insurance is imperative. Physical precious metal investors should ensure that their investments are covered by a specific "all-risk" custody insurance policy, underwritten by a reputable insurer like Lloyd's of London. One major drawback to storing precious metals at an investor's residence or bank is that individual insurance against theft or loss is often difficult and expensive. And, contrary to widely held belief, the contents of a safe deposit box are not insured by the financial institutions that rent them.
Balance Sheet Considerations – Individual precious metals investors must understand whether the depository storing their precious metals holds their physical metals on or off that depository's balance sheet. Investors should never work with a storage facility that holds their investment products on the depository's books as an asset of the depository.
Financial Considerations – Investors should know the depository's reputation, stability, financial backing and liquidity when considering a precious metals depository. Financial stability (as in how many years the organization has been in business and its overall reputation) should be a critical factor in any decision to store precious metals and other financial assets with a depository. Investors must also consider the fees, costs, and expenses of storing precious metals at a depository. Most top-tier depository storage facilities offer low-cost, long-term storage programs. A depository should be highly transparent about its fees and terms of service.
Designations and Accreditations – Although not required, many investors may consider a precious metals depository's formal recognition a positive factor. For example, International Depository Services Group storage facilities are designated or accredited through organizations such as the London Bullion Market Association, Commodity Metals Exchange and the Investment Industry Regulatory Organization of Canada.
Individual investors choose to store their precious metals at one of the three International Depository Services Group depositories because:
IDS Group primarily offers segregated storage accounts but will accommodate allocated storage accounts for clients who buy into a pool of metal and have ownership of a portion of the total holdings
All investors' (individual or institutional) accounts are kept off the IDS Group's balance sheet and
IDS Group provides every investor the comfort of knowing that deposits are 100% covered against loss. IDS carries an "all-risk" custody insurance policy underwritten by Lloyd's of London, the world's leading specialty insurance provider
IDS Group's Personal Custody Accounts offer the safety and security of storing precious metals in a fully segregated vault for gold, platinum and palladium.
IDS Group clients receive comprehensive, automated reports when any movement occurs within the investor's account as well as end-of-month itemized and consolidated inventory reports. If an account is part of a self-directed IRA, these reports will transmit directly from the IRA Trustee or Administrator.
Through IDS Group's proprietary Online Depository Client Portal, investors can access and manage their physical investment inventory 24/7 from almost any place in the world.
IDS Group team members are available to help individual investors navigate the process of storing their precious metals. IDS Group's full-time precious metals storage professionals offer extensive precious metals financial services and storage experience. The team's knowledge and experience have helped establish the International Depository Services Group as an industry leader. For more information, please call 888-322-6150.
---